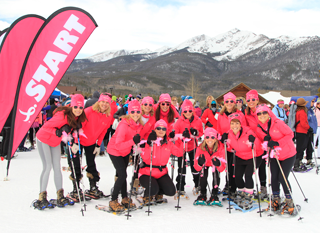 TEAM RESOURCES
Start a Team
Raising money for a cause you believe in can be easy and fun thanks to our new online fundraising tools! When you registered for Snowshoe for the Cure, you automatically received your very own fundraising website page.
Your Participant Center is like the headquarters for you personal fundraising page. We encourage you to log in today and customize your page so that everyone who visits can see your passion for the fight against breast cancer. Many will be inspired to join you at the event or make a donation on your behalf! For thosethat need an extra nudge, you can also craft and send emails to friends and family or connect directly to your network on Facebook. Be sure to check your participant center often for new donations and to send thank you messages to your supporters.
Offline donation forms must be received by February 25th, 2018 for donations to be eligible for prizes. Any forms received after that date will be counted as general event donations. Winners will be announced at the Snowshoe Closing Ceremony on Saturday, March 3, 2018.
Forms should be mailed to:
Susan G. Komen® Colorado
50 S. Steele Street, Suite 100, Denver, CO 80209
Participants: Please include your full name and contact information on the mail-in form so that we may inform you of additional donations received on your behalf. Also be sure to list the full names and addresses of your contributors so that we can send them their tax-deductible receipt.
Every dollar makes an impact. Thank you for everything you do!
Your Fundraising Dollars Can Help Provide...